Prestigious Universities of the World
Prestigious Oxford University
Normally universities are in cities, but in Oxford, "the city is in the University". The University of Oxford, one of the oldest universities which we stayed for three weeks, has developed Oxford city for several hundred years, while preserving its historical buildings. When we stepped off the bus in Oxford, we felt as if we had traveled back in time to the initial stage of academy in medieval Europe.
In the University of Oxford, all students belong to one of the 38 colleges and live and study there. Each college owns traditional and often characteristic buildings and facilities. For example, we saw a big old church and hall in Christ Church, which was used for the film of Harry Potter. At Magdalen College, we enjoyed punting, a famous sports in Oxford. And Brasenose College, where we stayed, has not only classrooms and bedrooms, but also a hall with a high table, a chapel, a playroom, and a bar. Different colleges make up different atmospheres and students there enjoy their lives in their own ways.
The policy of Oxford students is "work hard, play hard". In Kyoto University, it is relatively easy to get credits and we tend to study hard only our favorite subjects. On the other hand, students in Oxford, whether they like or not, study hard in order to catch up with their lectures to get difficult credits and good remarks. At the same time, they also play hard: drinking, punting, dancing, etc…According to them, "sleeping is the lowest priority".
We enjoyed walking in historical Oxford cities, studying and playing hard in colleges, and communicating with enthusiastic Oxford students. Therefore, we recommend you to visit and study in the University of Oxford.
(Text by Hiroyuki IRIE, Masashi HINO, Ami OKABE, Yoshitaro AKIYAMA, Fumitaka HASHIYA)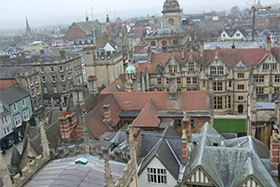 Historical atmosphere of Oxford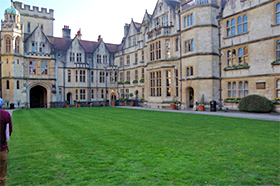 Brasenose College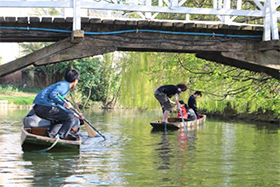 Punting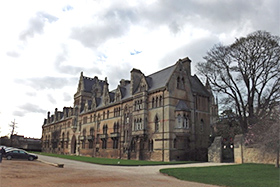 Christ Church